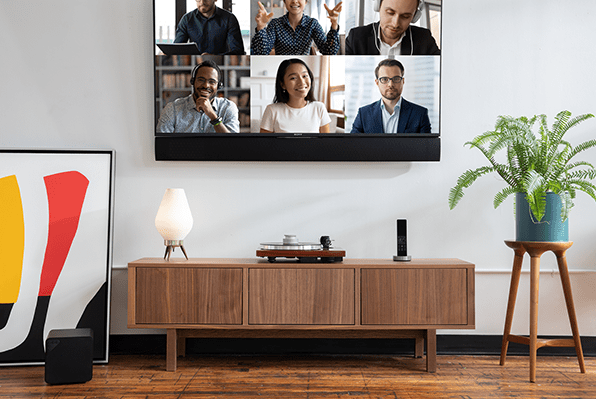 Savant and the Zoom Room
Still trying to find the perfect spot for taking video calls? Home office makes sense, but maybe the lighting is off. The couch near a window seems perfect, until your camera gives you a dreaded double-chin. Dining table solves that issue, along with a showcase of your messy kitchen…is there just no winning? Queue the creation of the Zoom room, or as we like to call it, the Stream Studio.
Ideal lighting, neutral background, and a strong network connection. With an array of options available you can convert an existing flex space or tuck it away in a nook. Combined with new integration from Savant, a Scene launches when you start a meeting; you not only get pristine audio and video, accent lighting can tell when you're on mute, and lowered shades keep your space private.
Zoom room packages and Savant Zoom kits deliver a premium video conference experience. Savant audio IP soundbar with integrated host makes your speaker the brain of the system. Webcam and wireless microphone array ensure you can be seen as well as you are heard. Top it off with a strong network connection and you'll be the envy of all you colleagues.
Interested in a Stream Studio for your home? Let us know!